Online Banking & Bill Pay
Online banking is fast and easy to use, whether you were born in the digital age or the flapper era. This free, user-friendly service is a tremendous time-saving convenience for everyone.
Do your banking safely from any computer 24/7. Check real-time balances, pay bills, transfer funds, and much more. There's a saying that life was simpler in the good 'ol days. Online banking puts that theory to rest.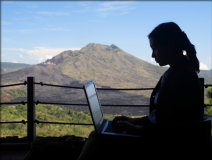 Summary

Free with all Advantage Plus accounts

Available 24/7 from any computer with internet access

Highest level of internet security

Easy to use

Pay bills, transfer funds, check balances, and more

Bill Pay

Unless you hold stock in envelope glue, you'll love online bill pay. This free service saves you time and money while providing peace of mind.

Free with all Advantage Plus checking accounts

Save money on stamps

Reduce paper waste and clutter

Highest level of internet security

One screen for all bill payments

Make one-time payment or recurring payment

Schedule payments in advance

Pay creditors, companies, and individuals

Available 24/7 from any computer with internet access